For over 6 months now we have been running around with a box containing an ALTERNATOR TO BATTERY CHARGER (PRO ALT C) made by sterling power on-board the boat.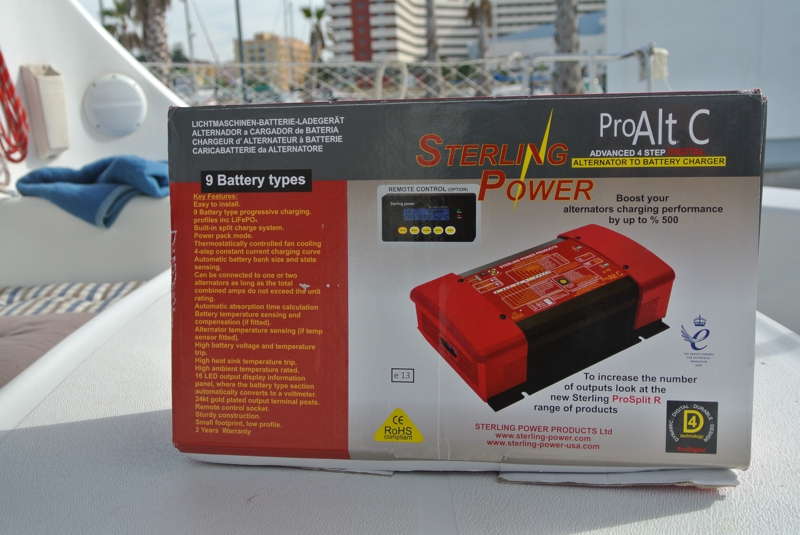 The reason why I had not even opened up the box until yesterday is because I have been so worried that it would be a big mess to "dig around" in the main electronic system of the boat such as alternator, charging, start and sensor cables.
After 5 hours of work the new charger was installed and it was a lot easier than I expected- so all the anxiety and worries was all for nothing. All I did was actually to connect a ground cable to the new charger and after that I moved all the cables that was connected to my "Split diode charge box" to the new charger. Ok- to be complete honest the guy who sold me the charger was kind enough to answer at least 11 emails with different sorts of STUPID questions- thank you very much for taking your time a Sunday night.
What the charger does is that it turns your "stupid" alternator into a super-smart 4 stage advanced battery charger that takes care of both your starting & domestic battery banks.
First it charges up your staring batteries with 13.8 volt (as your alternator would do) and after that your domestic batteries but in a more advanced way- first of all it boosts the voltage and then it charges in 4 stages, it has temp sensors and you can also set the machine for different kinds of batteries, for us this is really good because we have AGM batteries as our domestic battery bank which requires higher voltage than normal batte
You can also connect more than one alternator to it- wish is good if you have two engines as we have.
The guy who sold me the charger told me it would charge my batteries 5 times faster than my alternators  would do and after what I saw on my amp meter yesterday night I tend to believe him.
Here is a link to the product: http://www.odelco.se/Sterling.html
 //Daniel