The time had come, after traveling around South America for 5 months it was time to board  The Bay Dreamer our 38 foot catamaran for our 5 day sail across the Caribbean to Panama.


On the boat there was the Captain Daniel and his fiancé Anna who were a Swedish couple traveling around the world on the Bay Dreamer, however they were spending some time in the San Blas doing charter cruises. Their dog Vera was also on board, an 8 year old staffy that we all loved. Davide was an Italian diving instructor and was the deckhand/Italian chef onboard. He crossed the Atlantic seas with Anna and Daniel in December. Adam, Vic and Esther were the other 3 passengers onboard the charter with us. We all got along really well and had a lot of fun onboard.
We were meeting Daniel at the marina at 5pm so it had been a long day waiting around the hostel. It took a few trips to transport all of our backpacks and ourselves out to the catamaran in the harbour. We were then held up waiting on our passports so we ended up having dinner and a few drinks before we left.
The first 3 nights and 2 days were spent sailing, land was not in sight for most of the crossing. It allowed us to get to know everyone a little better, have a few drinks, swim off the back of the boat and read our books.
We had a fishing line in the water the whole crossing and caught two tunas, one each day. The first day Davide made sashimi, ceviche and a tartare as a starter for us before dinner. We were literally eating the tunas within an hour from pulling it in from the back of the boat, it was delicious. The other tuna was dinner on day two and we were spoilt once again with tuna steaks cooked to perfection.
One night on the open water there was a lightning storm and we were located right in the middle of it. The lightning was all around the boat and lasted from around 11pm to 4am. The storm caused the ocean to be rough and it to rain and although it was great to watch but we did get a bit nervous seeing Daniel and Davide decked out in all their gear and life jackets. They were running on the deck as they got the chains in the water to protect the boat if we were struck by the lightning.
The second day was my birthday and Sommer woke up early and decorated the boat with balloons and a poster saying "feliz cumpleaños", which is Spanish for happy birthday. She even managed to get a cake with candles on for me, I felt very spoilt. We went to bed early that night as when we woke up we would be at the San Blas. We were woken at 10pm because their were dolphins swimming with the boat. The dolphins were glowing from the phosphorous, it was simply amazing. That morning we woke up and seen the beautiful San Blas Islands. It was paradise and worth the wait.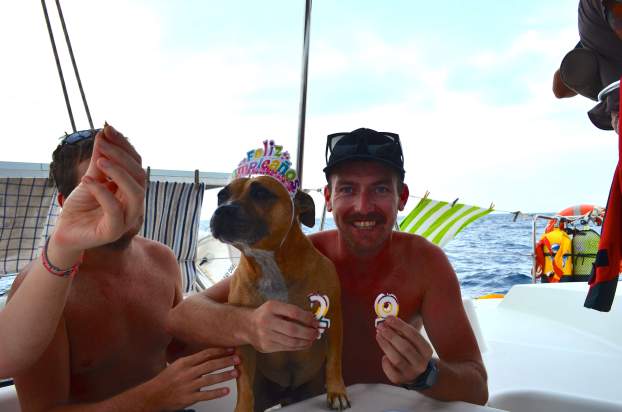 Every morning began with Anna or Daniel cooking us breakfast which included pancakes, fresh fruit, eggs, cereal and coffee. We were really fed like royals on the trip. After breakfast we were eager to explore the island straight away. The five of us and Davide hopped in the dingy and headed to BBQ Island. We walked around this beautiful island, went for a swim and had a game of volleyball on the beach.
That afternoon the girls stayed around the boat on the stand up paddle board while Adam, Daniel, Davide and I took the dinghy to go for a snorkel. When we returned we were exhausted,  Daniel and Davide headed out again looking for caves for us to snorkel in the next morning. They got back telling us that they had seen 5 sharks. This is where we were going the following morning. They had also managed to catch some fish, which they gutted on the back of the boat. Just before dark we could see a shark swimming round the boat and Davide basically hand feed this reef shark from the back of the boat.
That night we had lobster for dinner which we had purchased off the local Kuna Indians for $5 each. We could see ourselves living on lobster for the next few days.
The next morning after breakfast we made our way to the caves to snorkel, although it was not located too far away it was hard navigating through the shallow reefs, particularly at low tide. We spent nearly 2 hours snorkelling the beautiful reef. We seen lots of fish and two reef sharks that Davide and Daniel had chased out of the cave.
Once back on the BayDreamer we set sail to another set of Islands, it was about 2 hours away and we had lunch as we sailed.
We were eager again to check out the Islands surrounding us, so instead of Davide coming along Daniel showed us how to use the dinghy and off we went. First stop was a tiny island, about the size of a tennis court with just 2 palm trees on it. Something that you will only see on post cards. We then went to another island where we walked around then just relaxed on the beach before heading back to the boat. We loved life on the boat and didn't want to leave! So we didn't, Daniel said he had a few extra days up his sleeves so we decided to extend the trip for another two nights.
Daniel had become friends with a group of Kuna Indians on one island on a previous trip. They were very excited to see him and invited us for a bonfire on their island that night. We all had a few drinks with the Kunas before returning back to the Bay Dreamer.

The next morning Daniel had arranged to go hunting for lobsters with the 3 Kunas. Davide, Adam and I also went along on the fishing experience. They left at 7am and towed the Kunas out to their spot. It was amazing watching these Indians free diving down to around 12metres and searching the sea floor for lobster. They managed to get two large crabs and a small lobster. We were also lucky to see a huge loggerhead turtle even the Indians were excited about this.
"Meanwhile Sommer, Vic, Esther and Anna swam, floated and relaxed around the beautiful Islands with Vera. It was paradise for us all."
Later that morning we went to another island were we had to pay to get onto, this island was amazing but very touristy. It had small stalls with coconuts, jewellery and souvenirs.
After another great experience we set sail again for another set of Islands. Once arriving the 4 guys went snorkelling until just about dark before returning for dinner and beers. An island just near by had loud music and a small bar so the five of us and Davide headed over for more beers. On arriving at the island seen tiny turtles that had just hatched. They were trying to follow the moon into the water. The sad thing was that because of the lights on the island they just keep coming back. So we had a flash light out in the water trying to help them.
The next morning we went snorkelling for nearly 3 hours, seeing lots of different marine life. Daniel and Davide were free diving, it was awesome watching these guys and how deep they were going. They got as deep as 18metres and were able to stay down for one minute. They also managed to catch a barracuda, lobster and 2 snapper. We knew we were eating a good lunch once again.
After lunch it was time to go, we made one last stop to snorkel a shallow shipwreck before getting back to the boat for our overnight trip back to Portobelo, the mainland!
It was sad the following morning getting into the dinghy one last time and saying goodbye to the Bay Dreamer. Our time aboard was simply unbelievable as we had great people, amazing sights, fun times and many memories. We can't thank Daniel and Anna enough, as we had so much delicious food! They were also always eager to show us the amazing sites even though they had some sleepless nights sailing. Also thanks to Davide, it was his first time in the San Blas Islands so he was enjoying it as much as we were.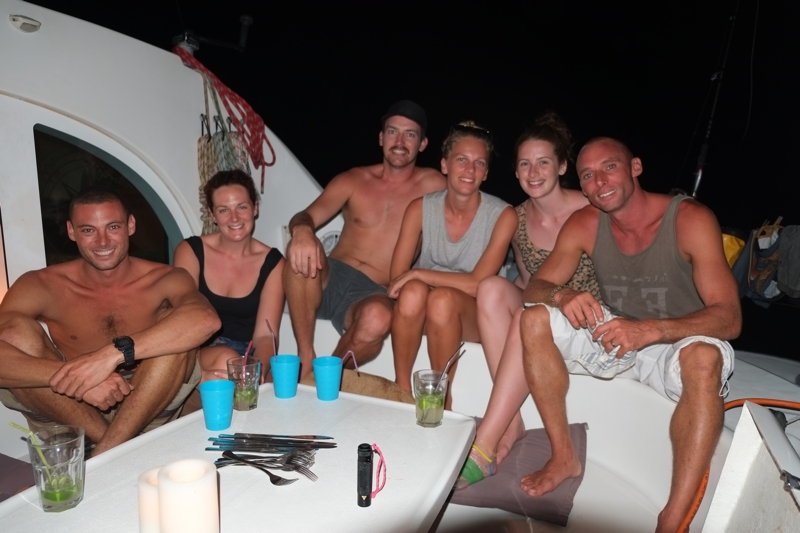 We hope to meet up with the BayDreamer again and would highly recommend this boat and these people for a fun, safe and enjoyable time sailing wherever in the world.
Chao for now,
N & S xx
Check out our website: http://nickandsomabroad.wordpress.com