Fiji has been very good to us and it is with mixed feelings we have to leave this nation of islands behind us. After spending almost 2 moths in this pacific paradise It is now time to set sail and travel 1200 miles south to a cold Opua in northern New Zealand.
The Crew – the Fantastic 5
Our current crew- Team Manta Rays has been sailing with us now for almost 30 days and they are by now well prepared for this pretty challenging trip. During our time together here in Fiji the crew has been doing different types of manoeuvring & sail training  and they are all doing very well.  



Tacking, jibing, reefing, anchoring, hiving-to and man-overboard exercises is some of the technics they now master pretty good and in some cases- perfect. Not bad considering almost all of them were beginners 30 days ago!
Besides doing a bit of practising with the boat we have been cruising a lot around the western part of Fiji. I think and I really hope that everyone onboard have been enjoying their time here in Fiji.
Simon "a.k.a the Legend" is back onboard….

Not everyone was beginners when they came onboard. Bay Dreamers old crew-mate Simon has done more than 5000 nm with us and besides feeding us with first-class rum he also knows his way around the boat. Welcome back Simon…..
Bay Dreamer has turned into Babe Dreamer !?!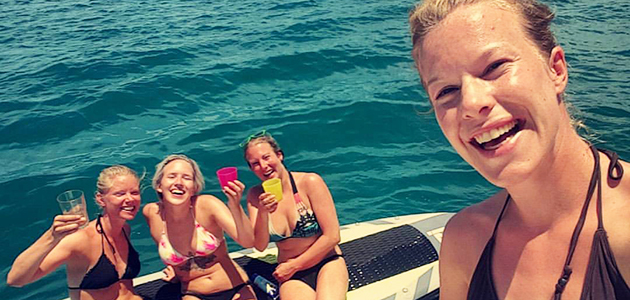 Me and Simon should have invested our money in two pairs of "noise reduction headset" instead of into the latest bottle of rum. Bay Dreamer has never before had this amount of women in her crew and me and Simon are in true minority situation.  But to be 100% honest; We could not wish for another crew-setup, this crew is amazing and I would like to thank Karine, Monica, Jenny, Julia, Anna & Olivia for being so – AWESOME!!!
I don't really know why they wanna call themselves the "Manta Rays", I would like to call them the "fantastic 5´s" but I don't have the balls to speak up- considering the situation I am currently in 🙂
Only one of us was brave enough
When it came down to dive with a bunch of Bull-sharks – only one of us was brave enough! I would like to say it was me (the captain) but it wasn't! Our onboard "baby-watcher"/ "bull-shark diver" Monica didn't hesitate when it came up "on the table" to dive with an ocean full of bull-sharks.
After leaving the boat very early in the morning for the bullshark-dive she came back with a big smile and ALOT of cool pictures- here is one of them!!!!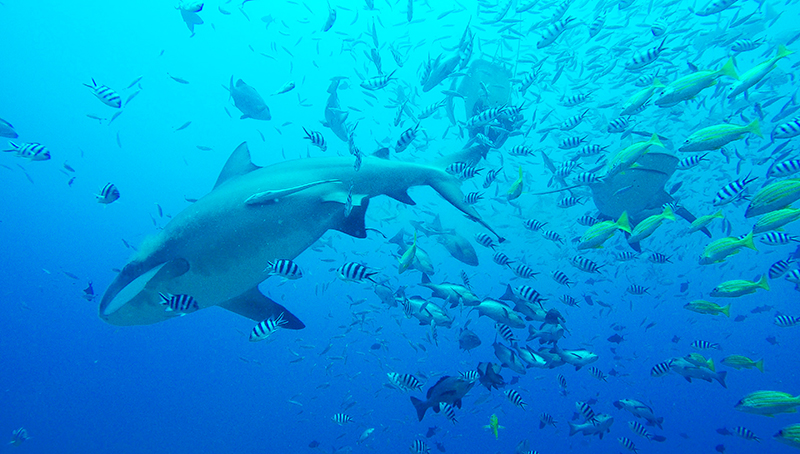 Changes in the crew list
We had to do some changes in the crew-list recently. Ankie that was traveling with us for 3 weeks in the beginning of this leg had to leave us because of her work. Jack that sailed with us from Tahiti to Fiji came back and sailed with us for 2 weeks before he headed home to the US again.
Another change we had to do was when Simons girlfiend Julia came to us  2 weeks ago- welcome aboard Julia!
New Zealand- here we come!!!
Tomorrow  morning we will set of towards New Zealand and i really hope that we will have a smooth ride! This leg is one of these 50-50 legs- you never know what you will get (weather-wise) when you get closer to New Zealand. It could be a storm- it could be absolute calms- lets hope for the best!
We have been working 2 days straight to get the boat back into "ocean sailing" condition. With Serviced engines, clean hull, checked bilge pumps, inspected rigg, controlled weather and communication systems and a lot of fresh food onboard  we are now ready to rumble once again!
See you down there – in KIWI country
// Daniel, Anna & Olivia with our awesome Fantastic 5 crew