We were watching a movie when the wind suddenly went from 10 knots to 50 in just  a minute. Our dingy just flew up in the air and flipped upside down so that the engine was in the water. It was all white outside and we had swells of 2 metres hammering us when a mooring line snapped. The place was packed with tourists boat and we all started to drift against the rocks.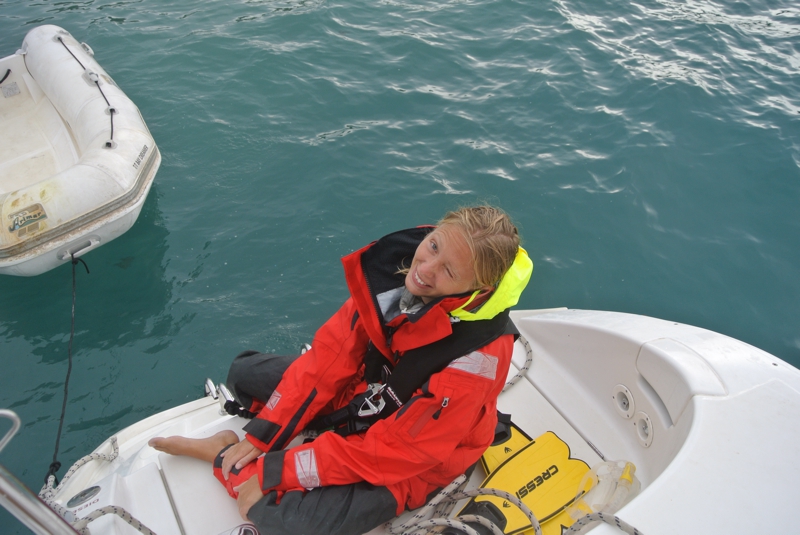 When we were just 2 meters from the rocks I tried to go out and pull the anchor to get out a bit but the main fuse went out so now we where in real trouble. I kid you not- it was almost impossible to walk outside.
We threw our both spare anchors in the water and hoped that they would help our main anchor to save us from the rocks. Suddenly a guy from a big vessel next to us shouted that he would drive us over if we didn't move (he was also drifting against the rocks). Anna managed to get the main anchor up of the water (how? I don't know, it was almost impossible to see anything outside) and I gave full power to both the engines but we didn't move an inch until Anna cut away both our dingy and our spare anchors.
We managed to get out of the bay and out on the sea and stayed there for almost 2 hours, just circling around until the wind dropped down to 30 knots before we went back into the bay so that we could rescue our dingy and two anchors. Well inside the bay we saw that two guys were taking our dingy- they dragged it behind their boat and when we told them it was ours they wanted 50 euros for it- fuc…s?!?!- we gave 20 and promised to come back with more, we have not decided yet if we will pay or not.
We where very lucky that we didn't hit the rocks and damaged the boat. I am curtain that I will find the anchors tonight and I hope that we will find someone that can repair our outboard engine in Italy.
I take my hat of for Anna- she is the toughest person you will find when the shit hits the fan.
Summery of damaged or lost gods:
Two oars

One dingy engine

Two anchors

4 ropes

two enter-hoocks
 Oh yeah I forgot- we damaged our roof as well.
 Malta is really making an impression on our economy- can´t wait to leave this place.
// Daniel