The 1st of October is the starting date for our next big adventure, Tahiti in the south all the way up to the Marquesas. Our 1000 mile long route will take us to places such as; Tahiti, Moorea, Fakarava, Rangiroa, Apataki, Takaroa, Fatu Hiva, Hiva Oa and Nuku Hiva.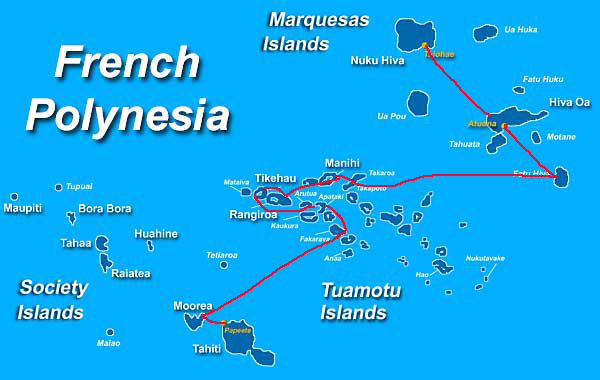 Bay dreamer will have to cover a lot of miles on this trip and we will have to do a lot of ocean sailing before we reach our final destination in Nuku Hiva!  This time we have  made sure we have plenty of time so that we can make as many interesting stops on the way as possible. This trip will be the best of two worlds- Traveling and sailing!
On this trips" main-menu" you will find activities such as:  Diving, Free-diving, Paddle boarding, fishing, Spearfishing Hiking, and off course a lot of sailing.
The whole trip will  take around 8 weeks and you do have the option to tag along all the way or just part of the trip! 
Join us for this unforgettable adventure
//Daniel & Anna
---
The travel plan in detail:
 1st/ oktober –  Tahiti to Moreea – 13 miles, Leg 1
We will set of from Marina Taina on Tahiti early morning and  set sail over to one of Moreea´s beautiful bay´s. The plan is to stay on Moreea for a couple of days meanwhile we are waiting for a good window in the weather for our next leg towards The Marquesis.
---
Leg 2:  Moreea to Tuamotos – aprox 260 miles     
Our goal is to sail to Fakarava that is our most easterly destination in the Tuamotos. This requires some help from the winds and we must be prepared that we might have to change our first destination to another atoll.
---
Leg 3: CRUISING around the atolls in Tuamotos 
This place is defiantly one of our favourite places in the world. Each and one of this atolls offers great snorkelling, spear-fishing, sandy beaches, palm trees, remote islands, and top diving. Don't expect any nightlife or party- this place is all about nature and chilling out!
Again the weather will decide when we will move between the different places but these places will most likely be our destinations.
Rangiroa

Fakarava

Tikihau

Apataki

Ahe
Almost all of our destinations has a small airport nearby and you will be able to find daily flights  to and from Tahiti so this is an excellent place to embark or disembark the Bay Dreamer.
---
Leg 4:  Tuamotos to Marquesas, 600 miles 
This leg is pretty long and it might be one of the toughest on this journey. We will have to sail over 600 miles until we reach our first destination in the Marquises- Fatu Hiva. This leg definatly requires that we have the wind on our side, it´s way to far to even considering using our small engines.
When we arrive to the Marquises we will check out the following places
Fatu Hiva

Hiva Oa

Nuku Hiva (Final Destination)
---
Costs:
Bay Dreamer is a non-profit boat. We are not making any money from our crew but we are all sharing the expenses while sailing together. The running cost of Bay Dreamer is 500 euro/week per person.  This covers food, water diesel, cooking-gas, maintenance, spare-parts, sat-communication, boat insurance etc
For more information about sailing with us please check out: "Sail with us"
If you are interested in sailing with us please send us an email to sailingbaydreamer@gmail.com