The trip to Cuba took us forever and ever, over 300nm in upwind and strong currents is not optimal for a small Catamaran like Bay Dreamer. It took us more than 4 days to sail from the Exumas in the Bahamas to Santiago in Cuba.

The sail it self was far from spectacular and there is nothing to say about it except that upwind-sailing really sucks. Just after we left Bahamian waters we entered a passage called "the Windward Passage" which is the water between Haiti and Cuba we got a good push from an eastern wind and we did speeds up to 11 knots for a couple of hours.
Guantanamo Bay
About 70 nm miles from our destination in Cuba you will find the notorious Guatanamo Bay. According to my charts you should keep at least 5 miles of water between your vessel and the American naval base, it seems like my charts were wrong.
Suddenly we could see on the radar that two boats left the naval base in high speed towards our position. Minutes after, a pretty grumpy voice called us on the VHF radio and told us it was in our best interest to get the "frack" away from their waters. We couldn't agree more and after we altered our course the two patrol boats returned to their base. So I would recommend anyone that is sailing the "Windward Passage" to keep at least 10 miles between you and Guantanamo Bay.

Drinking beer with the customs
I have always been a little bit skeptic about sailing to Cuba, not because I don´t want to spend time in Cuba but because I hate countries that loves to harass you with paperwork's, strange laws and "bribe loving custom officers". I really thought Cuba would be the number one country in the world when it came to piss me of- but I couldn't have been more wrong.
Of all the countries I have cleared into during my years on the sea, Cuba has been the most pleasant "check in experience" ever. Sure, it will take long time and many people will step foot on your boat before the procedure is finished. But they are so nice to you so it doesn't matter if it takes time. Many countries could learn from Cuba when it comes to welcome new arrivals.
They will normally send everything and everybody to your boat; doctor, custom officers, sniffer dogs, port captain, veterinarian, people from the health department and even people from department of agriculture to check your fridge and food supply
I really don't know why but maybe it was because the doctor and the port captain decided to drink beer with us during the "paper work exercise" the dogs and the customs officers didn't come to our boat.
We didn't run into any problem with Vera at all, it was the easiest thing to bring a dog into Cuba. We showed them a paper from the department of agriculture in Bahamas that said Vera was not sick and had vaccinations against rabies. To be honest I could have showed them "what ever" paper as long as it said health certificate" on the top.
Santiago de Cuba
To be here in Cuba is fantastic, for the first time in a long time it feels like I am truly traveling. As soon as you step foot on land it feels like you have stepped into a time machine and traveled back in time. In the morning traffic you will see people on horses mixed with cars and busses that are at least 50-60 years old. It is a mystery for me how these people manage to keep those old cars and trucks still running.
There is one marina in Santiago de Cuba, it is called Marlin marina and it is a government marina just 15 minutes from the town with taxi. The marina it self contains just of two small pontoons and a small office nowadays. I guess it looked different a couple of years ago before hurricane Sandy decided to refurnish the place.
The cost to stay here is really low (19 dollar a day for a 38 feet boat) and the people that work in the marina is really helpful. They will try to help you with everything you need such as food shopping, transportation, cooking gas and even dog watching. 
There is an oil refinery just around the corner from the marina and it really polluting the area around it. We have yellow stains all over the boat and they are close to impossible to remove without the help from an aggressive stain remover. Nothing bothers me more than a stained boat!!!! 
Santiago is Cuba's second biggest town and more than a million people lives here.  We spend two full days just walking around in center of the city. It´s amazing that so many of the houses are still standing but even tough everything is old and worn down it is also in the same time super charming and beautiful. Most of the buildings are grey and don't have any colors on them at all but all the colorful people and cars make the place look like a peace of art.
You wont find anything to buy over here except rum and cigars so there is no shops to talk about on the streets, but you will find a couple of restaurants and music houses around the city.
People over here are struggling to get the economy together and a guess would be that a normal household don´t have much more than a roof over their head and food for the day. That is why I am surprised that it is so safe on the streets here in Cuba. No one has even looked at us in a funny way when we are out on the streets with our camera, everyone just smiles and after they have asked you from where you are they will say: WELCOME TO CUBA!
Sure, you will also find a lot of annoying people that want to show you around the city for "free" or take you to their family restaurant with "good" prices. In every street corner you will also find someone that will ask you if you need taxi, cigars or good rum for the "best price" in town. I hate to be rude and I think this is why I am like a magnet for those people.
Havana (Habana)
The bus ride from Santiago to Havana is more than 14 hours and it cost us 45 dollars per person. Dogs are not welcome to travel on busses in Cuba so we had to leave Vera behind?! I felt like the worst friend ever when we left her in the marina in Santiago a couple of days ago. A guy called Caesar that works in the marina is Vera´s temporary new best friend until we return to the marina. I hope she is all right!!
All over Cuba you will find white signs with blue text on buildings and houses where visitor are allowed to stay at. If the sign has a red text on it, only local people are allowed to stay there. The cost per night seems to be between 15 and 35 dollar and the two places we have stayed at were really nice.
My sister Julia that now is back in Sweden decided that she wanted to sleep like a queen on her last night in Cuba so we stayed one night in a super fancy hotel called Florida on the main street in Havana.
Havana is bigger than Santiago and I guess that is why you will find more of everything there, more tourists, restaurants, cars, bars and hotels. I think our favorite place in the old city was the small narrow streets close to the sea front.
A meal containing of a grilled lobster with rice and vegetables in a nice restaurant will cost around 10-20 dollars in Havana. Remember that if you are new in town you will always pay a little bit more than if you know your way around the place. You will find many places with live music and everywhere you go you will hear tunes of salsa.
The Accident
We decided to speed things up a bit a couple of days ago, so me, Anna and my sister Julia decided to catch a ride with one of the many bicycle taxis in town.
There is only room for two passengers behind the "taxi driver" so that was why I had to be alone with my "driver". My driver was probably not only the slowest but also the drunkest taxi driver in Havana. You could feel his rum smelling breath every time he opened his mouth to talk to me while cycling. Maybe this is what you get when you ask for a bicycle taxi inside a bar?!
Anyway, while cruising around in the city my driver gets really upset with another taxi driver and he decides to give him the finger, or to be correct; he decided to give him the finger with both of his hands. I totally understand the guy, two bad fingers is better than one! The only downside with this two handed behavior is that a Cuban bicycle requires two hands to stay on the road, the bike did a 90 degree turn and in a split second and we both flew out on the street when it flipped. His respond to this incident was- what happened?!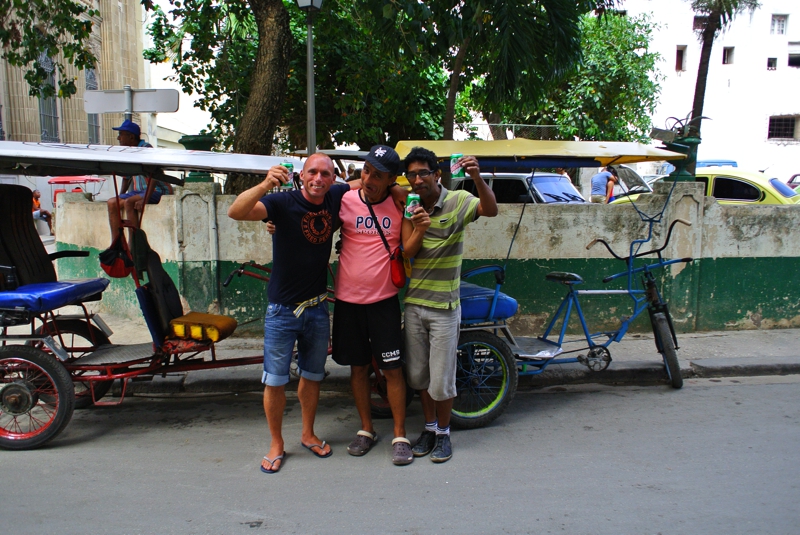 We finished of the ride outside some small bar and we bought both our drivers a beer.
It´s all about the memories!! So thank you drunk taxi driver man!
Trinidad
We decided to make a two day stop in a town called Trinidad on the way back to Santiago de Cuba.  The small town is the oldest town in Cuba and was founded for more than 500 years ago. Many tourists goes here and I guess this is why people seems to live a bit richer life than in Santiago or in Havana. Instead of high grey buildings you will find low colorful buildings and up on the hill you will find the old town. 
As soon as we left the bus people where standing there with signs trying to get you to stay at their guesthouses. We ended up in a pretty house that belonged to a woman called Marlena. In the house you would find Marlena together with her 3 kids and her mom. We paid 15 dollars per night and we got both breakfast and dinner for a decent price.
One of the main attractions in Trinidad is horseback riding. We went on a five-hour tour together with a local guide to a waterfall a couple of kilometers outside the town. Normally I hate guides and tourist attractions but this one was an exception. The nature here is really beautiful and the route took us out among small farms and old train tracks. The people on the countryside uses horses and other animals a lot in their daily work, we passed more then 10 small farms and I couldn't see any tractors or other motorized vehicles.
The waterfall itself was nothing special this time of the year; it was more like a lagoon in the middle of the jungle rather than a waterfall. Regardless, it was nice to go for a swim before we continued our ride back to town.
Familiar faces in Santiago De Cuba
It was over 6 months ago when we first met Staffan and Calle for the first time; it was in The Canary islands November 2013 to be exact.  Sense then we have bumped into each other all over the place; The Canaries, Cape Verde, Martinique and now in Cuba.
When we could see their small boat RAYOLA just behind us in the marina both Anna and me got almost hysterical- we love those guys and we have been missing them a lot!
Our stay in Cuba
Cuba is fantastic and I am very happy that we decided to come here. Sometimes it´s a bit hard to get a grip about things around here. Take for example their two currencies; they have one local peso and one currency CUC (Convertible Cuban Peso). Some products is possible to buy with the local peso and others you need to buy with CUC. Everything you manage to buy with their local currency in almost for free and if you buy something with the CUC you need to be aware of that the price can differs a lot between place to place.
A pack of cigarettes will cost you 1,25 CUC and sometimes they will try to charge you 1 CUC to go to the toilet or 2 CUC for a bottle of water- it doesn't make sense.
If you know what you are doing Cuba can be seen for almost no money at all, and if you are a sucker as me- it will cost you some more.
The locals will ask you for things, money or try to make business with you 24/7. Clothes, electronic and money is their main target. We traded an old computer that we had on the boat for 6 boxes of cigars and 6 bottles of rum. It was probably a lousy deal but I figured- better to have 6 bottles of rum instead of one old computer. It is always good to have things to give away as gifts along the way and what could be a better gift than a box of Cuban cigars and a bottle of rum?!
It is a little bit tricky to get access to the Internet around here- so that is why this post is way to long. There is one place in town you can go on the internet but it is not possible to get access with you own laptop. A German guy told me this was possible
Next time I visit Cuba I will for sure rent me a car instead of traveling by bus, that would give us the opportunity to visit smaller places out on the countryside instead of main cities along the tourist routes.
The Cuban people is in my eyes not poor, they don't have much but they have food, clothes, roof over their head, free school and the hospitals are also without cost. They don't have any luxury such as; iPhones, computers, the latest car or a big as plasma TV. Also it is very safe over here- no real drug problems, no major problems with criminality or other shitty things that you will see in many many countries around the globe.
I hope that we will see Cuba again sometime in the future.
// Daniel