Yesterday was one of those boring "paper-customs-immigration-stamps" days. We started of around 8 a clock in the morning and have been running around to almost every office in Road Town that had an official stamp in the drawer.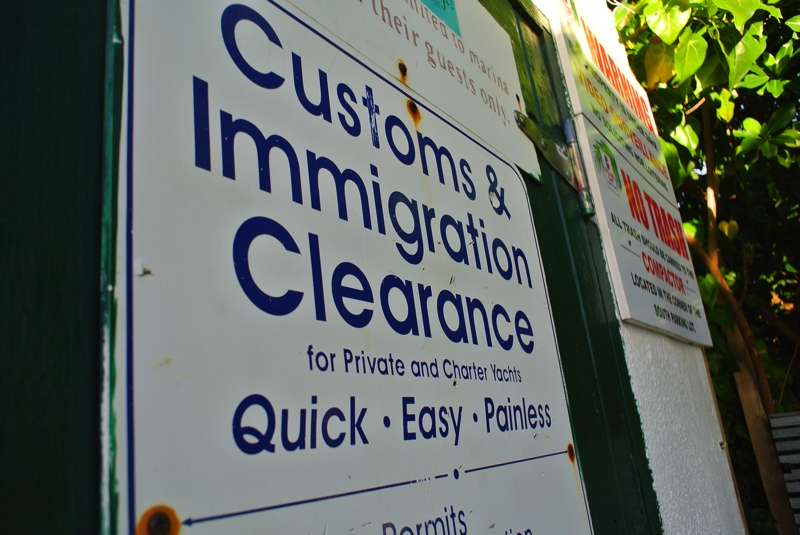 There is a lot of rules and procedures that you will have to follow when you are sailing around the world. The tricky part is that every country has is own "rule book" and it is not always easy to know when to do what and where to do it. Sometimes not even the locals in blue uniforms knows how it works- so you can imagine it´s stressful sometimes.
Yesterdays mission was to sign of Alexander, Mathias and Mikael from our crew-list and to sort out our VISA to the US.  The guys were going by ferry to the Dominican Republic so before they could go I need to make sure that when we are clearing out from the BVI we have informed the customs that they have left the country by their own. If you don't do this you will get a BIG fine together with a whole lot of problem. 
How Sail to the US with an ESTA VISA
There is a lot of confusion about the rules when it comes to sail to the US with a private sailing boat, this is what we learned about the subject;
You might think it is easy to travel to the US if you have an ESTA approval (the quick internet VISA)- but it is not easy at all. We have been emailing with the US customs back and forwards for a week now and we got a different answer every time we received an answer. The customs basically informed us that we are welcome to sail to the US as long we have an ESTA approval- THIS IS NOT CORRECT- DON´T DO IT!
 What you need to do is: 
Apply and get an ESTA approval on the Internet

You must travel to US soil on with an approved commercial ferry or plane.

Get a stamp in your passport and "activate" your ESTA

Fly or take the ferry back to your boat

You are now welcome to sail to the US with your own vessel and stay for 90 days

You still need to do a proper check in when you arrive to first port of call in the US
This was fairly easy for us to do this because there is a fast ferry (40 minutes) from BVI that goes to the American Virgin Island several times a day from Road Town.

//Daniel