Almost 2 weeks has passed since we left the work shop in Sint Maarten where we had our new solar panel frame fabricated. I almost forgot how it is to NOT be working on a boat and it feels great to be out sailing and enjoying our self again.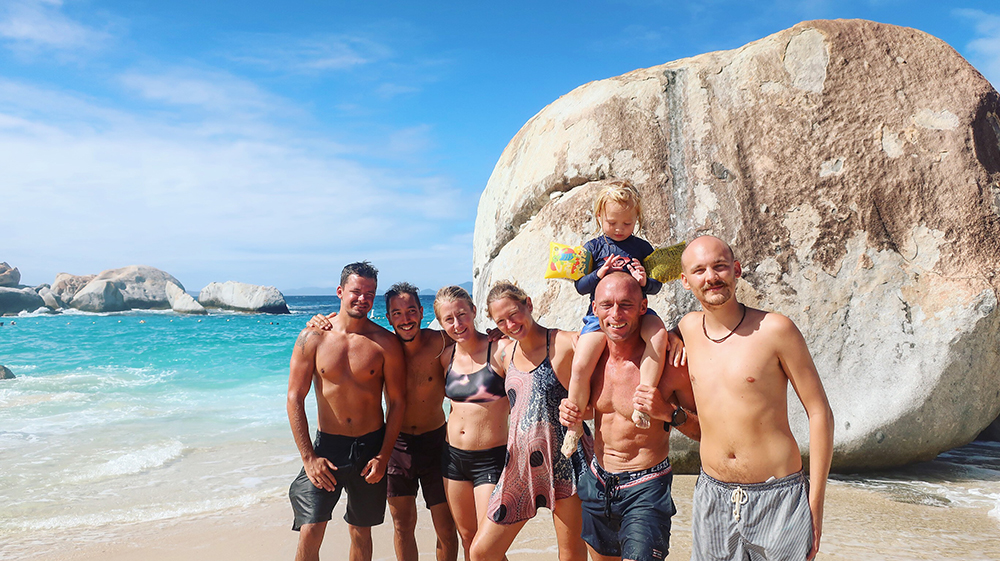 Everyone that is crewing on the boat for these following weeks has been sailing with us on earlier trips. Ylva and Victor that sailed with us in the Pacific last year are back onboard together with Simon that has been sailing with us on two long trips before.
Thomas that came onboard in November for the Annapolis – Sint Maarteen trip is still with us and soon we will have ANOTHER old crew mate onboard- Gabbie that sailed with us all the way from New Zealand to Thailand is soon about to step onboard our new boat for the first time.
Its always fantastic to have returning crew mates onboard the boat but to have a full house with familiar faces is like winning the lottery- happy days!

Slower pace, no stress – just what we need

We are only two weeks into the trip but we have already been visiting St Bart´s, Saba and now British Virgin Island. I am not going to bore you guys with long bad written texts about the places we been tom,  but the Island of Saba was a really nice surprise.
Normally when we do a trip we cover thousands of miles, visits as many places as possible and we keep the pace up to the max. This trip is different with short sails, longer stays and much slower pace than usual. No stress and comfort is on the menu this time and that's just what we need now when we are getting closer and closer to the arrival of our new baby boy.
Yeah- you heard right- we will once more have to do permanent changes in our crew list and we will soon have two wild dwarfs running around on deck.

The island of Saba – a small Caribbean pearl


I have never heard about the place before we decided to go there. The island is very different from all the other places we have been to in the Caribbean- in a good way though. Its very "hilly" and you won't find any beaches to talk about.
The people on the island was very friendly and it didn't take long time from you put the thumb up until you were sitting in the back seat of a car or on the back of truck getting a ride to where ever you wanna go. Maybe a population of 2000 souls makes it more friendly and welcoming than other places- who knows?!
The island is very beautiful and extremely clean. You will find green hills, good trekking, pretty villages, nice people, coffee shops and restaurants all over the island. Nothing fancy- but good! I recommend you to go there if you have the chance.
Food, food and more food!

We always eat great food onboard the Bay Dreamer but this trip seems to have an extraordinary menu. I guess it helps to have French chef onboard and a lot of fresh supplies from mother ocean.
With Thomas taking the lead in the kitchen we have been spoiled with one amazing dish after another on a daily basis. Keep it coming guys!
Our new home is improving – more power to us!
We did a whole bunch of repairs and modifications of our new boat during our stay in Sint Maarten before our crew came onboard and it seems like it was worth all the effort.
The biggest project we did was to get a huge stainless steel frame fabricated for a big solar installation on the back of the boat. We had the frame fabricated by a company called FKG Fabrication and I could be more pleased by the result.
True professionals – no bullshit, no surprises, price according the quote and perfect result.
Bay Dreamer 2.0 has now more than 2300 watt of solar panels onboard and that together with our new lithium battery bank we will be 100% independent from our generator if needed to.
More to come!
//Daniel