The watch now shows 0600 and the sun is rising over the mountains that is surrounding the bay of Vlores in Albania. We arrived to this one and only marina in in the whole of Albania yesterday night at 22.00 after we had an amazing sail down from Durres 60 miles up the coast.
We had about 20-25 knots of wind in our back and we did a new speed record during this leg, the meter was showing 10 knots for a few seconds and we where doing steady 7,5 to 9,5 knots. We figured out how to trim the sail so she is now doing a lot better in absolute downwind than before- keep in mind that none of us is actually good with sailing so it´s a learning curve- but we are getting there.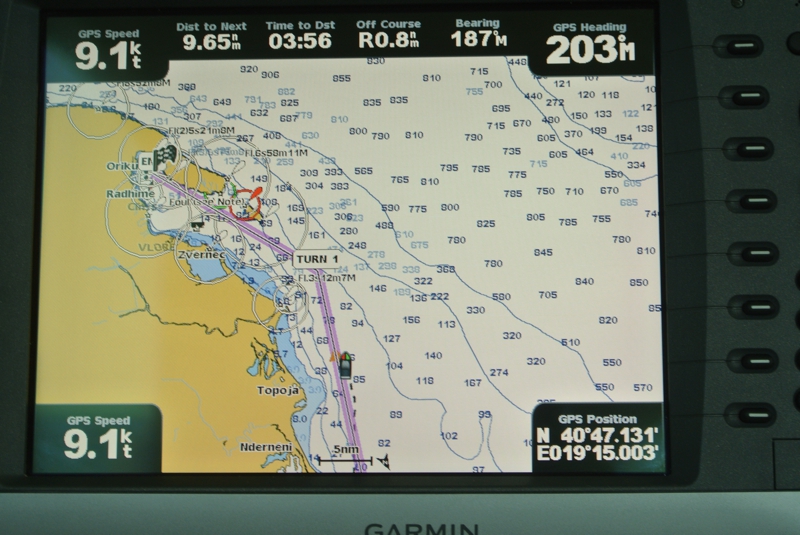 It was pretty tricky to enter this marina during the darkness and without a good searchlight I wouldn't recommend it. Albania is not like Croatia or Montenegro with deep waters everywhere and excellent charts that will guide you safe to your destination, it´s the opposite actually- you will bad charts and together with that a lot of wrecks, pipes, old constructions and shallow waters. I have two navigation systems on-board and I must say that my Garmin system is kicking as with the Raymarine- maybe it´s because the charts is more up to date?!
Anna is still getting seasick but it is slowing getting better- or she is just getting used to be sick all the time- let´s hope for the first.
We will stay in this marina for another day so that we will have time to check out the surroundings. Apparently there is an old submarine-base just next to this place- that itself could be a reason for putting on the running shoes!
//D
---
Some useful information
Marina Orikum
The marina is placed right outside a village called Orikum in the very bottom of the bay of VLorës and the marina itself is called Orikum Marina. They say that they are monitoring channel 15 on the VHF- but we didn't get an answer.
The position of the marina is: N40.20.35 E019.28.39
 Be aware that if you come in the dark you must keep the wall close to your starboard side on the way in, otherwise you will hit ground. They marked it with small red moorings but its very easy to miss it in the dark.
The cost for us in Marina Orikum was 20 euros per 24 hours