The sail over to Paxos from Corfu was dead slow in almost zero wind. The distance was only 20nm but it took us almost 6 hours of sailing against the wind until we reached a village called Lákka that is placed in a bay just on the northern tip of Paxos.
The bay of Lákka was seriously beautiful with it´s crystal clear water surrounded with green hills. We were not the only one who thought that, we anchored together with at least 50 other boats in that bay. The village it self was really small but in the same time really cosy with it´s many restaurants and cafes along the pier.
I did spend some quality time with my little niece Vilda and I tried to teach her to swim by the beach, we had a really good time together but I failed that mission big time. We ended up standing there throwing stones in the water for about an hour before I gave up. Anna took over and became very fast her new favorite 🙁
Me and Patrik did some minor jobs on the boat while we where on anchor and the plan is to do one task a day during our sail down to Athens.
We left Lekka around 11 a´clock today and sailed south to a small town called  Gaios. This place is probably the biggest tourist attraction on Paxos but either way it has a nice charm to it- with its small alleys and crowded squares close to the waterfront. To get here you have to sail trough a really cool passage that looks and feels like a channel.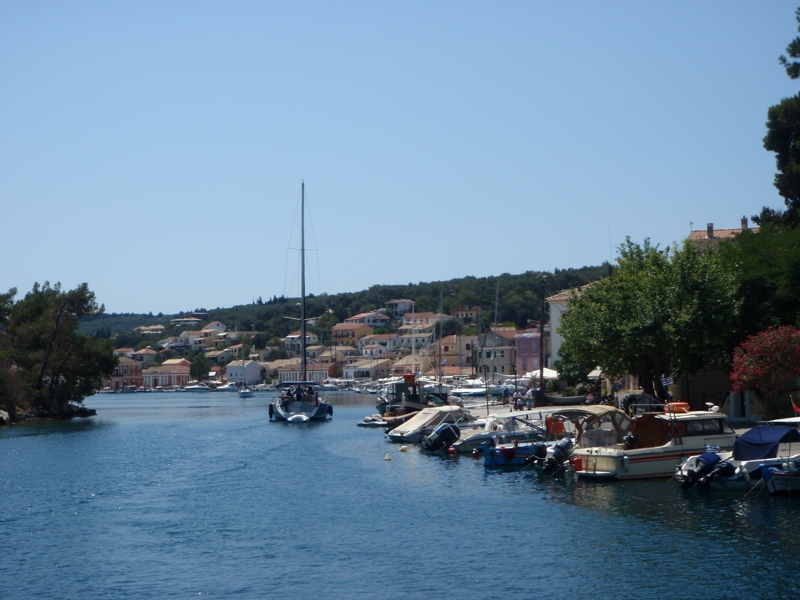 At the very moment we are tied up to the old city pier and Patrik is soon about to start the grill. 
//Danny
Ps. We bought goggles, snorkels and fins to go with the bad ass harpoon. We will go out tonight on a serious mission,- killing everything that swims. More from "Operation Octopus" tomorrow.