We are soon about to check out from Sarande and Leave Albania for the greek island of Corfu. 
Sarande- where we are now-  is the best town so far in Albania for us, they are more used to foreigners here and I guess it is because it is only a couple of miles over to Greece.
I cant really say that we have seen the true Albania- for that I think you need to rent a car and go inland for a couple of days- but I can say that we have been here and that must be worth something. The people are nice and except the costs for checking in and out from every port it is really cheap to spend time over here.
 On the way down to this final south port of Albania from the marina up in the bay of Vlores, we had really low winds and we had to use the engines all night.  It took us almost 24 hours to get here.
When we are running on engines we usually use one engine at the time and are running on really low revs to save fuel and the engines them self. The difference in speed between using one or two engines is around a knot or two and we are not in a rush so I think this is the way to do it.
Anna looked a bit stressed out when the Agent in Sarande that was supposed to check us in was both stupid and rude. I guess it was pretty close that I knocked him out when he stepped foot on our boat- I was fed up with this checking in and out even before this guy turned up to the boat and he sure didn't make my Albanian morning temper a favour.
Vera has not yet accepted the "artificial-grass-toilet" on board Bay Dreamer and she is really good at not going to the toilet- she has now broken her earlier record with 23 hours.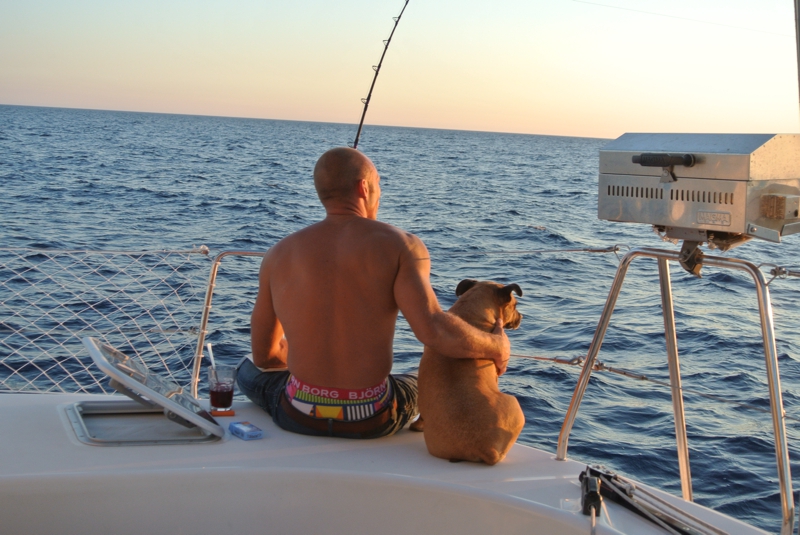 Me and Vera are really working on our fishing skills- no fish so far- but we will get one- and when we do- IT WILL BE BIG AND TASTY!
//Danny
---
Useful information about checking in to Sarande
Sarande is the first or last port of call depending of from where you are coming. They town has a main port in wish you are allowed to stay in for a fee of 5 euros per day. The agents will stay waiting for you when you arrives and it will cost you 50 euros to check in. We have this book called "777 ports" and they recommends an Agent firm called PIRO-77. I would recommend you NOT to use this company. Remember- you are not obliged to use the agent standing there- they are just representing a private company with private interests. I would go for another company called AGIMI- JONIAN (see the details below), they where really professional, polite and they also spoke english.
Good agent in Surande/ Albania:
AGIMI- JONIAN
Phone: +355 852 250 75
Email: agimzholi@yahoo.com
The port offers you both water and electricity