We have really strong winds at the moment and our stay in the marina has turned into a pretty bumpy experience. The pontoon were we are "parked" at is just by the entrance of the marina and it´s really the worst place you will find over here.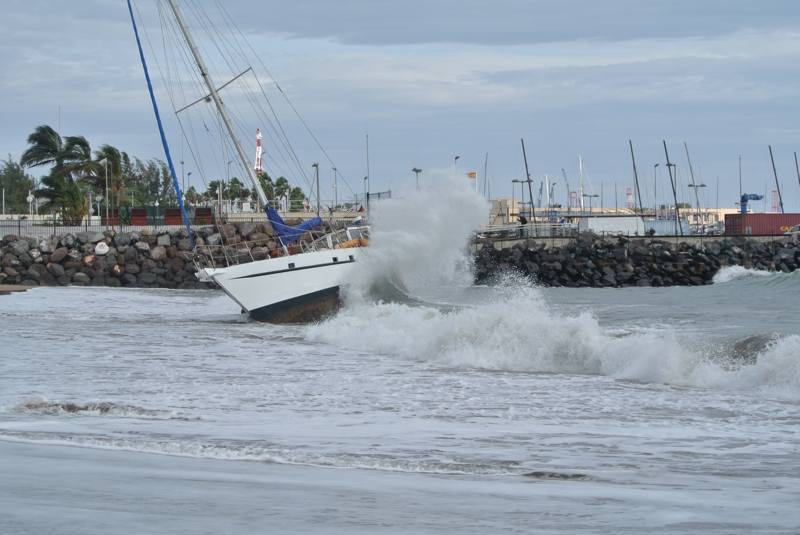 One German flagged boat got thrown up on the beach when his anchor lost his grip. I feel sorry for him and apparently the guy is back in Germany so he is not even here to take care of the mess.
Food and supplies has arrived
Yesterday Anna and Rado wet into town and bought a lot of food for the Atlantic crossing. It´s really tricky to pack the boat in a good way but it seems like we have control of all the weight on-board. We have stored all the heavy canned food on top of the engines so that we are more heavy in the back than in the front.
Just to give you an idea of how much food you need to get for a long trip with 8 persons on-board I will give you an sample of our shopping list:
 

35 kilogram of Rice

20 kilo of Pasta

3 kilogram Cusco's

20 cans of baked beans

20 cans of tinned tomato's

150 litres of water
And keep in mind that this is only the beginning- we will get all the fresh supplies the same day or the day before we leave.
When will we leave? As soon as the wind drops down changes the direction we will leave Las Palmas for Cape Verde. It seems like Thursday could be a good day to start our long journey.
New crew member
Also we have added one more guy to our crew list. Luca from Italy/ Brazil is now bunking in Rado´s room so we are now a total of 8 people on the boat.
Me and Anna could not have asked for a better crew, it´s a great mix of different nationalities and personalities but they all have one thing in common; they are all super cool.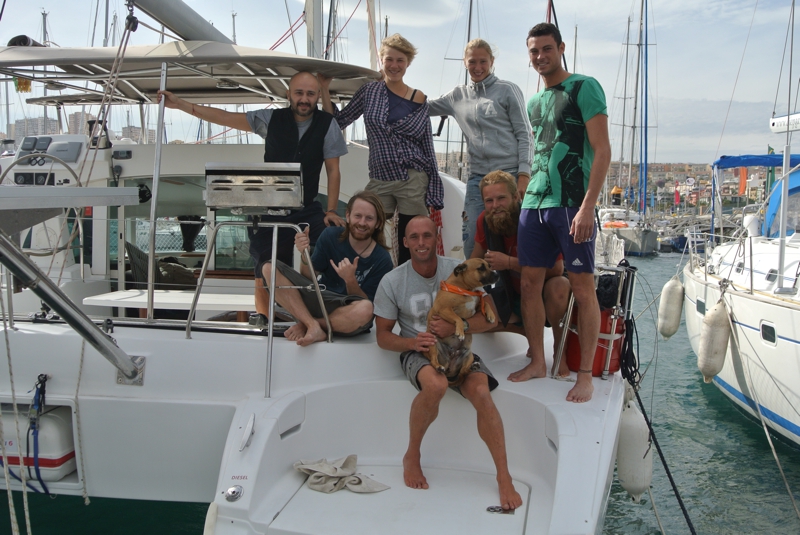 Prepare for the worst and hope for the best!!
Are we prepared for the trip? Yes we are! All system are working to 100% and the boat is in super condition. The grab bag is prepared with food and water supplies for 10 days in the life-raft and it´s also packed with everything from fishing gear to emergency fireworks. We sealed of 300 litres of freshwater from the rest of the system so if the water-maker breaks down we will be fine. Our satellite phone is back from repairs so that we can download weather reports and keep in touch with our loved ones back home.
The crew is great and I am sure that what ever happens we will be laughing all the way to the Caribbean.