Yesterday we motored almost all the 22nm to the Island of Hvar from Split, we started pretty late, around 16.00 so we did not reach the Island before dark. The original plan was to go to a old town called Stari Grad but because of the dark we decided to hock up to a mooring in a small bay called L Tiha just 5 nm outside Stari Grad.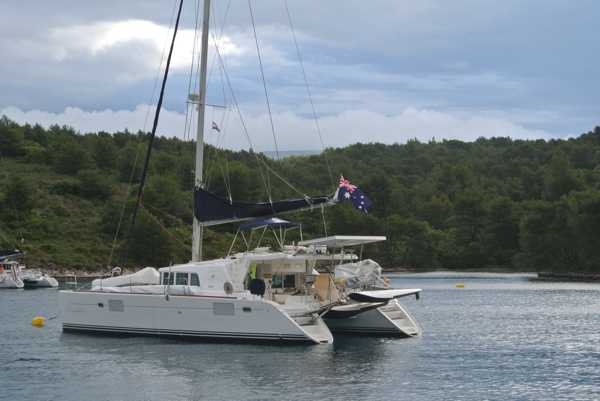 This bay L Tiha is really remote and it is nothing here worth mentioning except that it is a really pretty bay with crystal clear water and plenty of yellow moorings  that you can tie up to for free, this is good because we might have really bad weather today. There is two other catamarans here as well- our neighbor has a 44 feet Australian flagged Lagoon called "Finally my Darling" and listen to this- he has a fucking ultra light airplane tied up on the back instead of a dingy- how cool isn´t that??
You will find this bay called L Tiha on the position N43.13 E 016.33.
Our biggest concern at the moment is Vera:
1. She hates the rain (so she does not wanna go out)
2. She hates the Thunder (So she does not wanna go out)
3. If she goes out she can't go anywhere to do her needs
We have arranged with some green good looking pissing grounds on the deck (artificial grass) but she has not yet accepted the "Bauhaus Plastic Grass).So now we will see how big of a bladder this small dog has- it has now been 15 hours sense she took her last piss.
//Danny