It has been 7 days since our Tahiti – Fiji crew left us after spending 12 intense weeks onboard the Bay Dreamer.  Since our departure in Tahiti we have covered around 3000 miles, visited 5 countries, cooked more than 160 meals, caught ALOT of fish, swim with whales, free-dived with sharks and much much more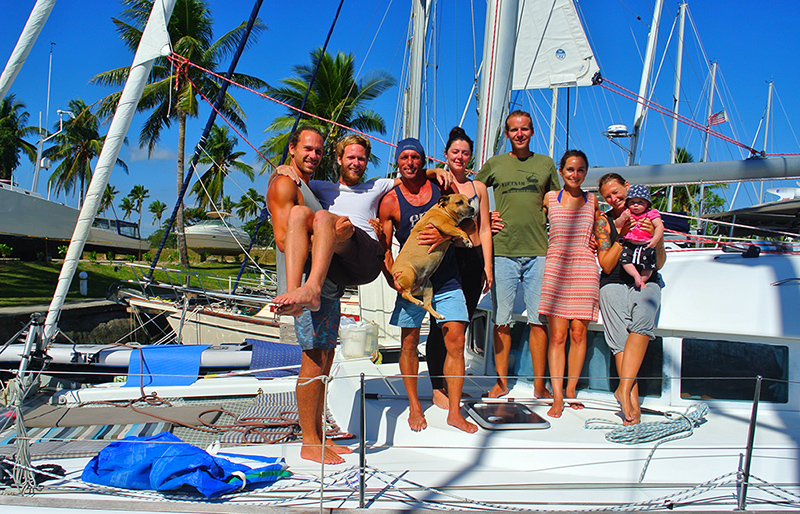 Little Olivia is now 5 months and we have really pushed ourself and her pretty hard ever since her arrival. Since may she has been flying planes all around the world, sailed over 4000 miles, spent 2 weeks in a shipyard, sailed trough 2 storms, visited 8 countries and met a lot of new friends. So we are not a shamed over the fact that we now are doing as little as possible before our next trip kicks of.
We are at this very moment on anchor outside the touristy but oh so beautiful island Malolo Laila! Little Olivia is spending her drawling days playing around with her parents och pulling poor Veras ears!
6 days from today our new crew will arrive to Vuda Marina that will be our starting point for our 8 week Fiji to New Zealand adventure! We are all excited over to finally meet the new crew.
Before I end this post I wanna "salut" and thank our fantastic crew that just left us and the boat. We had an amazing time together and we could not ask more of a crew!
Thank you Julian, Mylene, Nicole, Jack and Will for everything!!
// Daniel, Anna, Olivia and Vera