We are now on anchor just outside marina IN GOUVIA on the island of Corfu. We are planning to just relax for a couple of days until our 4 first guests arrive. It will be fun to have people on board Bay Dreamer and see how it works when all the rooms are occupied.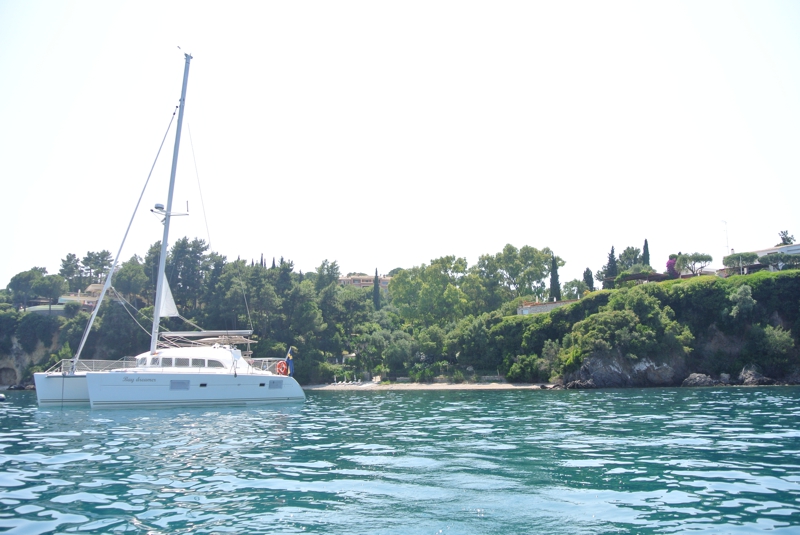 On the way over here from Albania I thought it was a good idea to update my Garmin navigation system on board. I put in the SD card with the update files and whoops-everything gone – it said system  "SYSTEM MISSING" all over the screen. My good I got so angry with this- I was actually close to throw every thing that it said Garmin on over board. Anna really tried to make me leave it for the moment until we reached land so that I could call Garmin to get assistance, but if you know me- I just can´t let it go. After two hours I figured out that if you hold the power button down at the same time you hold down the "up arrow" for 40 seconds you will reboot the system- how I figured this out I don´t know- I was lucky I guess- but also VERY happy!
//Daniel & Anna
---

Useful information
During the summers you are allowed to use the marina in Gouvia as you first port of call when you enter Greece from up north- apparently it´s less busy as the main port on Corfu. You will find the harbor masters office just next to the marina office. You don´t have to stay in the marina for this- you can stay on anchor in the bay opposite of the marina and take you dingy in for the check in.
The coordinates for the marina is: N39.3904 W019.51.06
The coordinates for the anchor spot is: N39.39.66 W019.51.29