In the beginning I found it both difficult and a little bit scary on-board this new floating house of ours. To get inside our new house I have to walk over a narrow plank. It´s actually really tricky because the plank is hanging over almost a meter of water, and in the beginning I got so stressed I often missed it and fell into the water. This was before Daniel taught me how to swim so I just sank like an anchor.

Well, on-board our new place is pretty cool. I have one of my favourite spot under the table in the "living" room. The table works both as a food place for my humans but also as a roof for me when the bloody thunderstorms are all around. I don´t know why but it seems like they are around a lot more here then back home.
My two humans live down stairs in one of the basements. I can´t get down there because the stairs are way too steep and I am not built for mountaineering, but sometimes when the thunder comes Anna lifts me down so I can sleep with her. I guess she is also afraid and uses me as protection.
Outside I have many great places to hang out at, and because this boat is a lot wider and more stable than other boats I can move around all over the place. My neighbor in Croatia, a Golden retriever from Germany, is living in a house called mono-hull and he can´t move around at all when they are out on the sea, so I am really happy that we have what they call a Catamaran. I have morning sun in the back and evening sun in the front. I even have my own shower in the back so that my humans can scrub me and clean my feet if they are dirty.
In the very front of the boat you will find a big trap. It´s a net with big holes in it that connects the two hulls together. My stupid humans often sit around there like it is a nice place or something, but because I am a lot smarter than they are, I stay away from that scary place.
I almost fell overboard and into the sea one time in Croatia when I was chasing a stupid dolphin. After that incident Daniel decided to put a NET all around the place to protect us from the dolphins. This really made my life safer and also it was a nice feeling to put that lazy bastard Danny to work, hehe. It took him two days to finish the job.
During my time on the sea I have developed new interests and hobbies. Don´t get me wrong, food is still my main interest, but there is one other thing called fishing. I love this new hobby. I can sit around for hours and hours staring at this amazing thing that the humans call a "fishing rod." I don't really know what it does yet but Daniel throws something into the water, which is full of colors, and sometimes the thing starts to make a strange noise. Oh Jesus, I love that sound! I love it so much I also start to make all sorts of strange noises.
Sometimes when me and Daniel are playing with this "rod" thing strange stuff happens: Daniel starts to scream and he jumps up and down in the air like a crazy human, meanwhile he is pulling on the "rod" thing. To be honest he looks really ridiculous but it so much fun so I also have to scream and jump around like crazy. Then, after a while, this happens: FOOOOD!!! Yep, that's right. The "rod" brings you food out of the water. It looks almost like a rabbit with no feet and it smells funny, but man it tastes good.
"One time not long ago, A guy from America came over to play with me and the "rod thing" but it turned out that the Americans are crazy- this guy Seth did not get any food from the "rod thing" so he decided to use it on me- lucky me Daniel was around and stopped this crazy human."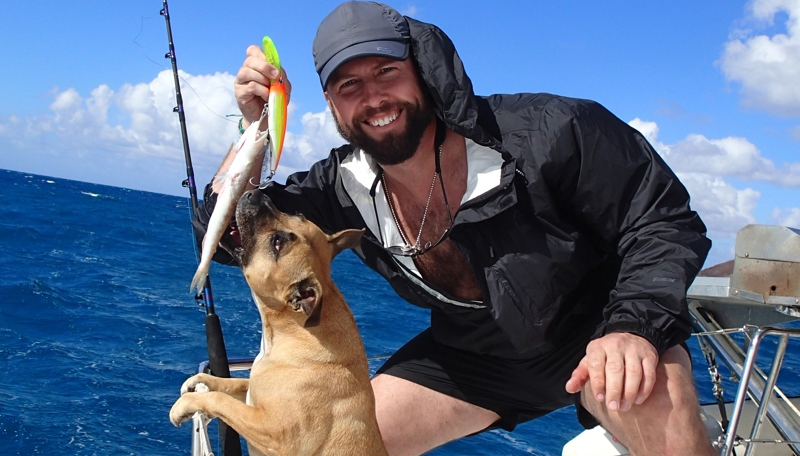 During my seven years on this human ruled world I have chased and scared the shit out of rabbits, birds, elks, hedgehogs, humans and much more but I must tell you that on the sea it is a completely different ballgame. You would not believe what I have seen during my stay on Bay Dreamer. I have seen both dolphins and turtles, and also a couple of really big whales. When I try to scare the shit out of them nothing happens. They just stay around the boat as if they were in charge and ruled the world. And my chickens, the so-called humans, don't help me out at all. They just say stuff as OOOH, WOOOW, AMAZING. As I told you- a different ballgame.
So far on this boat I have visited more than 8 countries and sailed more than 2500 miles, so I think I have earned the right to call myself- VERA THE SAILOR.
// Vera – the Sailor