21 years has passed since I first set my paws on Bay Dreamer! No I am not I liar, remember-I am a dog!!! In my universe one of your human years is the same as 7 normal dog years- see I am not a liar- just a dog!!

A lot has happened during these 21 years, so much I feel I have to tell the story before it`s too late – you never know what will happen tomorrow or the next day! Sailing around the world is definitely not as safe as out walking the park back in Sweden, I am risking my life in one way or another on a daily basis! Thunderstorms, huge waves, hurricanes and cyclones are just few examples of things that are constantly threatening my life!
You probably already know how everything started, but if you missed my earlier posts (14 years ago), here is a short-version: they (my humans) bought the boat in Croatia about 21 (dog) years ago and we have been sailing ever since. I have visited more than 28 countries, sailed over 30,000 miles on disgusting non-drinkable-saltwater, crossed the Mediterranean sea, the Atlantic ocean, did the notorious "Darian Gap" probably more than 20 times, and lately I have also crossed both the Panama canal and the Pacific ocean in one go!

My crew
On my little vessel I have two permanent humans with me, Daniel & Anna! Daniel (my male human) is the one that normally cleans after me when I have been on the toilet. Anna (my female human) is way less stressful than Daniel and she is the one that fills up my water bowl when it is empty.
Besides my two permanent humans I have made ALOT of new human friends along the way; Katrin, Davideh, Renato, Sarah, Jack + another 104 humans who are on my "new-friends-list". I truly love humans – they are easy to charm and they normally do what I ask them to. With some exceptions of course, they are not always as smart as they´d like you to believe! Sometimes they act like they are completely retarded, throwing away food and stuff in the water- WHY???? It`s not always as bad as it smells!!!

Getting older
My body has changed a bit during these years, I have gained a couple of kilos, Or to be more correct I have moved them around a bit. I am told all the time that I look good but I am starting to feel that I am slowly getting a bit older.  The other day when I took my humans on a little jungle trek to a nearby waterfall I could feel my hips were not like they used to be.  

New and old hobbies
I have also developed a couple of new hobbies onboard my floating home. Fishing is probably my absolute favourite hobby. There is nothing that can compete with a fresh caught tuna!! Some others are: anchor barking, dolphin & whale  "spotting", turtle spotting, pig chasing and dinghy barking are on my new top 10-list.
 
Old interest like tricking the humans to give me food, rolling in different types of shit is of course still funny but it feels really nice that I have managed to developed new interest and skills lately.

Racist dogs
Other dogs in general are just a big problem for me! To be honest I can't understand why they pick on me all the time. It`s like they are racists or something. As soon as me and my fellow humans arrive onshore they more or less attack me! Panama had by far the worst dog population ever, and here in French Polynesia you really have to watch your back too. The other day 7 ugly dogs attacked me, I got shit scared and I had to call in my human security to sort the situation out! The thing is that I CAN defend myself pretty well. I have strong jaws and I still have a few street-dog moves up my sleeve but my damn humans get all in a huff when I break out my dark side. So now-a-days I just let them (the humans) deal with these kind of situations.
Almost famous in French Polynesia!
Oh yeah- I almost forgot to tell you that I am pretty famous around the islands of Toamutos here in French Polynesia after I caught and killed a shark! The bastards (the sharks) have been mocking me for months and I just had it, I couldn't take it anymore! Hehe they are not as tough as they think! They taste really bad by the way – I was sick for days after eating it. Lucky for me I have my main bitch Daniel cleaning the deck after me!!!!!
About sailing
First of all – I did not choose this life!! My humans practically forced this life upon me!! I can't say I like ocean sailing, the damn house is moving way to much and I have to risk my life every time I have to go to the toilet. Who designed this house by the way?????? It is "banging" a lot and the stairs down to my humans bedroom is way to steep for a 62 year old terrier.  I have a couple of favorite spots on-board though; under the kitchen table and on top of Daniel´s "rope-pile" are pretty comfortable.
When we are on anchor I love my new ocean-life though. My old home back in Sweden didn't have any of the "fun-stuff" this house has to offer; sharks, dolphins, turtles, crabs, whales and humans on paddle boards make up for all the "banging" and "bumpiness" that is going on at the sea.
Passport issues or something…
The biggest drama I´ve had so far was not even caused by me, I have been more or less imprisoned for the last 4 months and it`s all because my retarded human Daniel doesn't know how to deal with my paperwork! I told you – NOT AS SMART AS THEY THINK!!! They call it quarantine – but it is like being in house arrest! You can't leave the boat (when humans can see you) and you also need to leave blood samples and take a lot of scary injections!!!! It was not until recently the humans in uniform gave "bitch-Danny" my "you-are-free" documents! Thank you God for giving me back my freedom!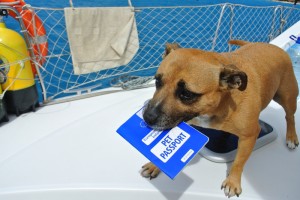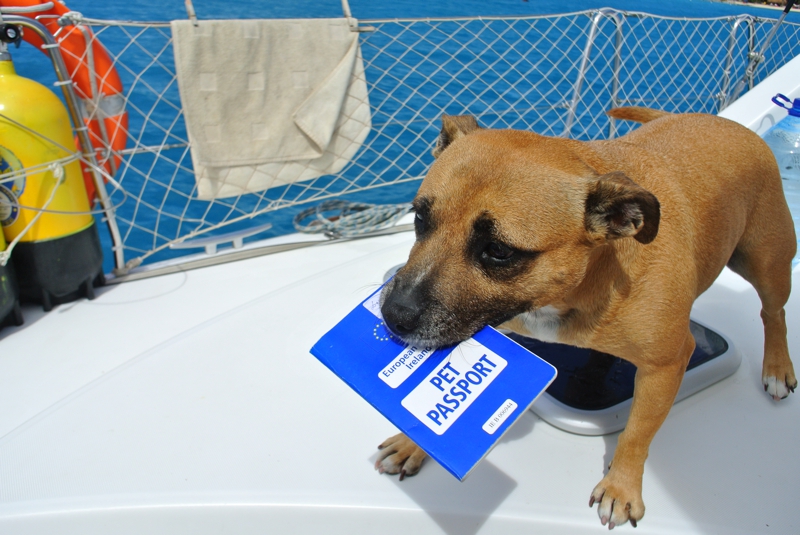 When I got the "evil eye"
I am really keeping myself busy onboard the boat these days, I am what you call a working dog. I delegate a lot which sometimes can be pretty hard and difficult because my crew doesn't always listen to me! One of my main functions onboard is that I am the designated security officer – or to be more correct – I USED to be the main security officer onboard!!!!
We had a minor incident a couple of months ago and Daniel gave me the "evil eye" and demoted me to the onboard "pree-dish-washer". I totally disagree that this incident has anything to do with me at all, I get what you can call "double-orders" all the time and it is sometime hard to know what that bloody captain wants.
This is what happened:
My crew left the boat to go and look at some stupid under-water-stones in a place called Moorea. After they left I did my normal 360 security check (all according to the onboard routine) of the boat before I laid down for a well deserved power-nap in the sun. Suddenly this super nice dude came up to the boat from nowhere. He was smiling and petting me as most humans do when they come to the boat for the first time. Meanwhile he told me I was the most good-looking girl ever, and it suddenly happened:
I think he didn't know it, but he was actually about to borrow our cheap fishing-rod – the one mounted on the left side of the boat. MAN – was he lucky that he had me onboard – I stopped him immediately and let him know that the one mounted on the right side of the boat is the one he really needs – it´s brand new and way more expensive than the other shitty one he first tried to borrow from us.
OK- how could I know this super sweet guy was not on our crew-list??? We have new human crew-mates all the time and it is not like I have anything to say about who is welcome or not!!!! Anyway – there was a lot of the "evil-eye" going on after that incident, and according to Danny I was a "stupid-fat-ittle-stupid-dog" for several days. I think he is stupid (and very fat-headed) for not giving me clear instructions!!!
Nothing is normal anymore!
Before I started my journey around the world I thought I had a pretty good idea about other species and how they worked. Back home we have cats that you can chase if you are really bored. Another classical animal back home is the famous "rabbit-in-the-cage", and if you are stubborn enough you can actually scare them to death just by barking loud enough!!!  
Over here is it a complete different story! There are strange creatures all over the place and some of them are almost impossible to scare or chase for that matter!! Take the damn sea-lions in Galapagos for instance; they are impossible to chase off the boat! I tried and I tried but in no way would they move, I even tried to go "street-style" on them but they responded with the same tactics so I ended up sleeping under the kitchen table again meanwhile my boat transformed into a sea-lion-amusement-park!

Besides the sea-lions in Galapagos I have also stumbled upon monkeys, giant dog-eating lizards, crabs (good to kill), whales, manta-rays, sharks (also good to kill) , dolphins (great for barking), turtles, tunas and also a crazy swimming giant-pig in the Bahamas???? I told you nothing is normal anymore!!
Weird things going on – ALL THE TIME!
Its a lot of weird things going on around here almost all the time! The list of crazy/weird things is so long its impossible for me to tell you about each and one of them, but take the thing they call anchor for instance.
Our home has a thing called anchor, the anchor lives in the front locker (just next to my toilet on the starboard side). An anchor is like a giant fish-hook with an long (probably 80 meters or something) "snaky" thing attached to it! (Yes- I do know what a fish-hook is!
One time an american guy caught me on one ( a hook)! It hurt like hell and Danny had to get the toolbox so that he could operate it out of my month! NEVER TRUST THE AMERICANS!!!)
Not every day but almost, my humans throws the anchor thing into the water, sometimes they even do it 3 or 4 times a day (I think it has to do with that Anna is not happy with Daniels performance or something). MAAN- the sound it makes when it goes in the water is SO exciting- it rattles,slams and kinda screams  in the same time and to make it even more interesting all the humans onboard stares down in the water looking for it!
One time I got so excited I literally shit myself , a big pile of dirt ended up on the deck just behind me! The actually pile of shit was not a problem itself, Danny just picked it up as he always does, but the SHAME was almost to hard to tackle. I mean I am 62 year old lady and I should know better than not to go to the toilet before its anchor time!!!
Another disturbing things that is constantly going on is all the jumping humans?! They don't understand "jack-shit" when it comes to danger and life threatening situations! First of all- the water is salty and you can't even drink it! Also we have all the dangers that lures underneath the surface- sharks, crabs and similar stuff! I do my best  all the time to stop the humans for jumping into the damn water, I bark and run around in different warning patterns but it is like they don't wanna listen to me!!! Sometimes they even jumps in the water when we are sailing????? Seriously?????!!
Life in general!
In general life is great! It is a lot of chilling, relaxing and sunbathing is going on over here! Don't get me wrong I have to work on a daily basis as well. My food-begging procedure takes a lot of my "free-time-hours". I also need to put at least 2 hours a side to keep track of all the jumping humans and annoying sharks.
My latest "begging-technique" is as follows: First you have to sit close to the actual table- but not to close (then you get the evil-eye), then you need to look at the humans but at the same time not (it takes some practise), then you have to look very sad- head down (but keep looking) and try to look almost like you are about to die from cancer or similar decease!! Try it on your humans  – this shit works for me all the time- meatballs, beef, pasta and fresh fish comes my way all the time!!!!! Once I even managed to get a whole lobster!!!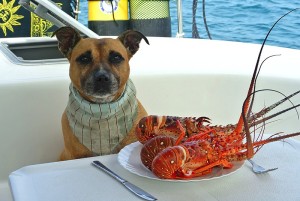 Planning to change your life style? Contact me for advice!!!
I am pretty hard to reach nowadays but it is possible. The "3-bark-call" or the normal "tail-waiving" doesn't really work out here! So if you are a dog and are planning to change your lifestyle or if your humans wanna ask my humans something that concerns dogs and sailing, you can always try our email: sailingbaydreamer@gmail.com.
You can also try channel 16 and ask for Bay Dreamer on your VHF – radio but I heard the range sucks on those machines!!!
// Vera the "experienced" sailor
Ps. Refuse the park- shit on a sailing boat instead!!!!