To cruise long distances with a sailing boat sometimes feels like it is more about maintenance, mechanics and fixing stuff than it is about the actual sailing.
 Sense we arrived to the boat we have installed radar, solar panels, fixed the engines, painted the bottom, made new glass fiber in the anchor-box, mounted the grill, changed the batteries, got new gas bottles, all sorts of electicall jobs, new toilet pump, a net around the boat (child and dog proof), fixed the dingie, mounted a flag poole and the list goes on and on…….
Almost everything on our "fixing" list is sorted- even though new things are constantly added to our list.
 We are soon finally ready to leave Split where we are now to begin our cruising south towards Greece.
At the moment two riggers is here to tighten up our rig, during our 45 knots of wind sailing we did the other day we could feel that the rig was way to loose and it made a lot of scary sounds.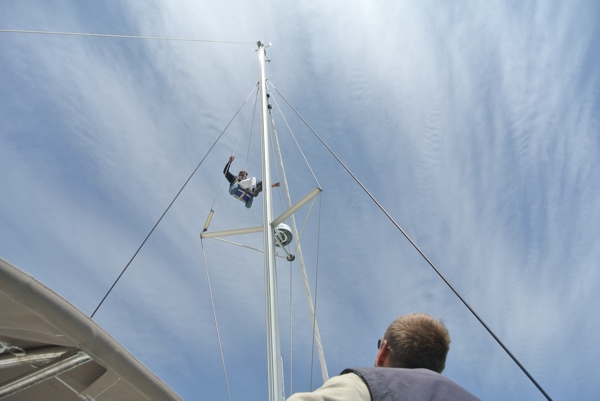 I must say it is really easy to get help around here- you get help the same day if you find the right guys (and pay them off course).
//Danny